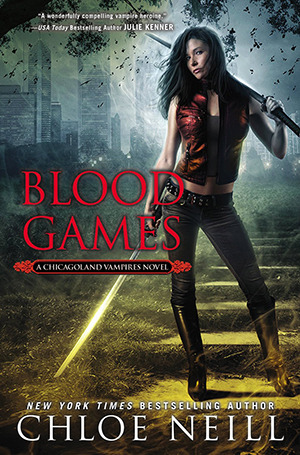 Paperback, 350 pages
Published August 5th 2014 by NAL Trade
ISBN : 0451415205
While Merit didn't choose to become a vampire or Sentinel of Cadogan House, she vowed to fight for her House and its Master, and she's managed to forge strong alliances with powerful supernaturals across Chicago. But even though Merit has had wild adventures, this may be her deadliest yet...

A killer is stalking Chicago, preying on humans and leaving his victims with magical souvenirs. The CPD hasn't been able to track the assailant, and as the body count rises, the city is running out of options. Vampires and humans aren't on great terms, but murder makes for strange bedfellows. Can Merit find the killer before she becomes a target?
Book Review:
Oh sweet baby Jesus has finally heard my prayers and gave me this book. By baby Jesus of course i mean Chloe Neill, but you know... Blood Games is everything Chicagoland Vampires always been. Terrifying. Mean. BAdass and Purely Entertaining. But this time it's game ON for the GP...
"Oh, they'll try to sweep," I said. "But I have no worries you'll come back to me."
His smile was meltingly handsome. "Because I love you without measure?"
"Of course," I said.
Also, I had the car keys.
PREPARE YOURSELF to be WOWED. We are talking about a SERIAL KILLER. And one that could easily be on Dexter.... Yap, now the streets of Chicago are screwed because a killer is on the loose and the VAmpires are fighting for a King or Queen. *happy dance*
Ethan... I missed the blond god that can rip your head off just by looking at you. In Blood Games Ethan has so much more too loose due to be in the competition for the head of the GP. Does he let it affect it? Of course no. And yes people, he will be continuing fake proposing to Merit and to us as well. It's like : IT'S GONNA HAPPEN!!! (Building expectation) - SHIT IT DIDN'T HAPPEN. (Completely crushed our souls). Oh well. But still Chloe Neill does not let this book get too romancy and shit... It's still dangerous as fuck. And prepare because the last page of this book screwed Ethan Over...
Merit + Food + Ethan = FOREVER. Merit is still the same fanatic by food she always was but in Blood Games she's more serious in a way... (well, as serious as Merit can get). She's has to face with the real struggles of her relationship with Mallory and getting their friendship back together. With Jonah as well and in holding Ethan from breaking his face. And finally, with Ethan that keeps hiding stuff from her. Let's just say that Merit cannot get any better than this... Because she's goooooood.
We slept together, our arms and legs and bodies entwined, as if we might save each other

.
And we forgot completely about the crème brûlée.
MAllory and Catcher are two that really surprised me because there is a part in the book that you get to see them like never before. Catcher is always so intense and Mallory so cheery and now we can really see that... There is this chapter that is going to blow your minds!!! Oh what a wonderful couple...
Yeah, we got competition!!! Heads will roll with the GP Competitions - Literally...
Yap do i need to say that my life depends on this books? Probably not. THAT'S HOW GOOD THEY ARE. Now we just have to wait for another book... again.