Published by Pear Tree LLC
Published in November 30th 2013
270 pages
ISBN:
9780989247962
Nikolai:
I have been a contract killer since I was a boy. For years I savored the fear caused by my name, the trembling at the sight of my tattoos. The stars on my knees, the marks on my fingers, the dagger in my neck, all bespoke of danger. If you saw my eyes, it was the last vision you'd have. I have ever been the hunter, never the prey. With her, I am the mark and I am ready to lie down and let her capture me. Opening my small scarred heart to her brings out my enemies. I will carry out one last hit, but if they hurt her, I will bring the world down around their ears.
Daisy:
I've been sheltered from the outside world all my life. Homeschooled and farm-raised, I'm so naïve that my best friend calls me Pollyanna. I like to believe the best in people. Nikolai is part of this new life, and he's terrifying to me. Not because his eyes are cold or my friend warns me away from him, but because he's the only man that has ever seen the real me beneath the awkwardness. With him, my heart is at risk… and also, my life.
I never though it would be possible for a book to be this dangerous and carry such a sweet story within. Last Hit is freaking AMAZING! This book either made me go all like: Kill him, kill him!!! or go: Awwww... It's full of opposites and I love it! There is nobody that can read this and hate it but if you are stupid enough to do that, just wait for Nick to pay you a little visit at night!
I am still trying to cool down because this book is HOT! You have this scary Ukrainian Hit Man that everybody just assumes that he's a brute and then he goes and does the sweetest, most unexpected things to win the heart of the innocent Daisy. Oh my, and when he finally got the girl... The things that went on... Guess you'll just have to read to see it.
"Someday," Bogdan screams behind me. "Someday, like Aleksandr, some girl will be your downfall."
I stop with my white-gloved hand on the door and my back to Bogdan. "Then I will have lived for something important in my life."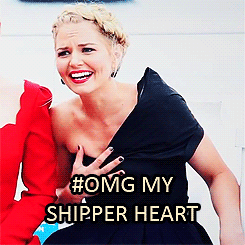 Nick is a character that you really have to try to understand because he will not be easy to read. He's all alone and has been all his life and he also thinks that he's a very bad man for killing all those persons. But the thing is that he only kills the "bad guys", the marks that have something dark to hide but even that act of goodness is not good enough for him. He practically been killing people since he was nine... I loved to read about this vulnerability in such a strong character and it helped so much to understand his motives for loving such a sweet innocent girl. He may not look it but he's quite funny. In the beginning of the book he kept breaking and ripping Daisy's shirts and jackets so he could buy her new and expensive ones... See? He's sweet. All this sweet times he may fool you for a while but when he means business you'll get a wake up call... When he's on his Hit Man jobs he's extremely focused and it makes you want to stay the hell away from him...
I was born a killer, my teeth bared, and I claimed my first victim almost before I had taken my first breath. But that is Ukraine. A boy on the streets without a gun is prey. I have never been prey. Always the hunter.
Daisy was kind of naïve the whole time... But for someone that ran away for her dad's house into a ginormous city without so much as a friend, she really deserved for me to try my hardest to like her. And I did! I loved that she was the one that could bring happiness to Nick. I loved that when she found out about his job she supported him instead of ditching him and that she wasn't predictable or an annoying little girl... She turned out pretty great in the end...
Daniel is kind of the BOSS! I loved him and his American slang along with him constantly teasing Nick. He was definitely a breath of fresh air within all of the Hit Man's and he's got such and important part to play in here.... And now that I know that the next book will have him as a main character I am kind of freaking out....
"I'll take a steak. Rare." Daniel tosses his dirty boots onto the gold inlaid coffee table. "I like to hear the faint moos when the dome comes off the plate." Daisy shudders at this statement.
"Gross," she mumbles.
This whole Book was kind of a really shitty day for Regan "the best friend". Even though we really don't get many opportunities to get to know her and actually like her, I fell sorry about the way this book ended for her... But she's also going to get main female character in the next book, so I am also really happy to get to know her better!
The Bratva part of this story is off the chains... It's amazingly described with all the guns, the fighting's and the gross men that take part in killing people over money... I loved every single bit of it and Jessica Clare did an amazing job making sure we knew who the bad guy and the good guy were...
"Once a part of Bratva, always part of Bratva," Sergei sneers.
Las Hit is a MUST to read NOW! If you love a Hot "Killing" book this one will do the job right away.