You know it's a good book when you can't stop reading it. When you look at the clock and it's 2am and you have no intentions of going to sleep because you want to absorb the last few pages and make them last... That's a good book and
Near and Far
is a very good book.
"Fuck, that felt good." Garth hopped up like new life had just burst into him. Arching his head back, he cupped his hands around his mouth. "FUCK, FUCK, FUCK!!! FUCKITY FUCK, FUCKERY, FUCKER!"
Resume:
Long distance relationships are hard, but Rowen and Jesse are determined to make it work. Even if it means riding long bus rides and old cars (Old Bessie i heart you), keeping secrets from each other and having to deal with hard challenges that will test the strength of their relationship. So, can they survive this and came out even stronger? Or will they lose to temptation and give up?
This is a Nicole Williams book, so it's bound to make you cry like a baby or make you smile like a goof in love... It's her thing, she writes beautiful books that are hard to top but so easy to adore. This was no different because this book has one of the most unusual relationships ever, but somehow they make it perfect just the way it is. It has distinct characters that are overpowering but loving at the same time. It annoys you, it saddens you and it makes you happy as hell, this is what this book did to me and i loved every single bit of it.
"You have to save yourself, Rowen. I'm past the point of saving now."
Jesse Walker, like the previous book, it's still the same ball of energy, with an easy smile and good mood as always. It's one of the reason i liked him in the first place and somehow he does not make that sunshine of his get tired. Not one bit. Though now there is some darkness chasing him, like his past is finally consuming him for good and he knows he will have to deal with it sooner or later. This phase that we see in the book it won't be good, either for the readers nor for Jesse, but it will be necessary for him to take a step forward to overcome his fears and make his relationship with Rowen last.
"For you, I'm a weak, weak man. I'm so weak for you that you could break me with one word. You could end me with one look. You could ruin me with one touch."
Rowen is not the same lost, revolted girl that we met in the first book. Now she's chasing her dreams and making them count while juggling a long-distance relationship. Just by this you know that this girl won't have it easy... But Rowen is Rowen, she's the resilient, fighter and badass chick we love. I think that she is much mature now but she will have to go a long way to see just how much Jesse is important to her, and to juggle out of the way some annoying bits (Jax) of her path...
"How is the first girl in the history of the world to pick the good guy over the fiercely handsome, hung-like-a-stallion bad boy?"
Grath is AWESOME! He's like a psychologist to their relationship drama, while still having a mouth of a sailor. In this book he was that friend that cared about you more than he cared about himself. It's just the way he is. He may have a fucked up life but he will do anything to lift your mood in a second. This is the truer side of him that i've ever seen before. But, i do want him to be happy!!! Please Nicolle Williams, give something good to Garth! He deserved it for being such a good pain in the arse and a really good friend...
I'd learned years ago: Garth didn't do moderation. At least not very well. It was all or nothing with Garth Black, and that was part of why being his friend was hard. It was also what made being his friend so much fun.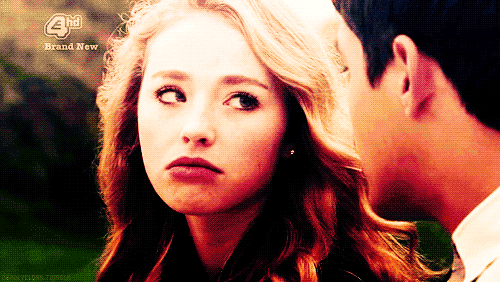 To Jolene and Jax: I HATE YOU BOTH! Well i kind of liked Jax, until he messed with Jesse. Now he's on my shit list...
Near and Far
is pure awesomeness and it's a read that you won't forget soon. It's light and fast paced yet marked by heartfelt words full of love and need. It's perfect and it will have you crying in a second...(Just warning). Definitely a great way to start the week.